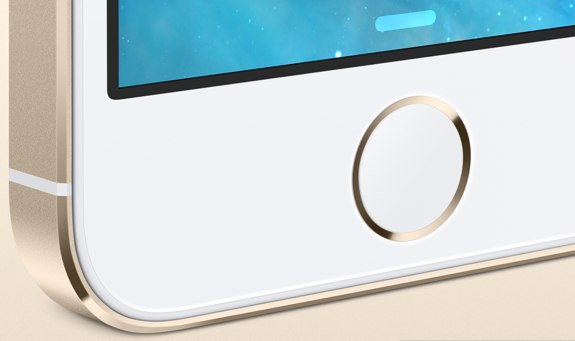 We're back for another installment of Ask Andru, where I take your burning tech questions and give you practical answers! This time, we have a two-parter as it pertains to securing your iPhone 5s (see our iPhone 5s review) and iPad, as well as making Touch ID work as well as expected. Here we go — these questions were sent in by Mike:
I have two questions,

I have a two part question, what is the best security app for the iPad mini with Retina display & the iPhone 5s?
Since I picked up my new iPhone 5s from the AT&T Store-Lynwood this past October and two exchanges for two new replacement phones from the Apple Store @ Alderwood Mall, the Touch ID still has not worked for me. Have other users had problems with the Touch ID? In regards to exchanging my 5s for a 5c or a Droid phone, I have been informed that it is past their respective fourteen day warranty period to facilitate an exchange because their operating systems will not allow this transaction to take place. So thus, AT&T and Apple have left me with a defective product.

Regards,

Mike
Let's start with that first one. When most people talk about security apps, I think they're asking about something that will protect them from viruses and malware getting installed on their mobile devices. For Android, for example, you might want to have something installed due to the rampant malware that can be found in the Google Play store.

However, Apple sandboxes each app, and as such, they don't get full access to take over your device, no matter how hard they try. Apple also has a vetting process for each app, so there are no antivirus or anti-malware apps that you'll need.
Yet, one app that I do love for security and protection is called 1Password. Let me explain. 1Password is a password manager with built-in web browser that makes it easy to navigate to websites on your phone where you have passwords that need to be entered, and also stores things like your credit card information, bank account info, secure notes, and others. The app will even come up with complex, unique passwords for you. You have one master password to access the app (which should be nice and secure,) and anytime you leave the app, it is locked and requires your master password in order to be accessed again.
I highly recommend it. You can get it on the App Store for $17.99.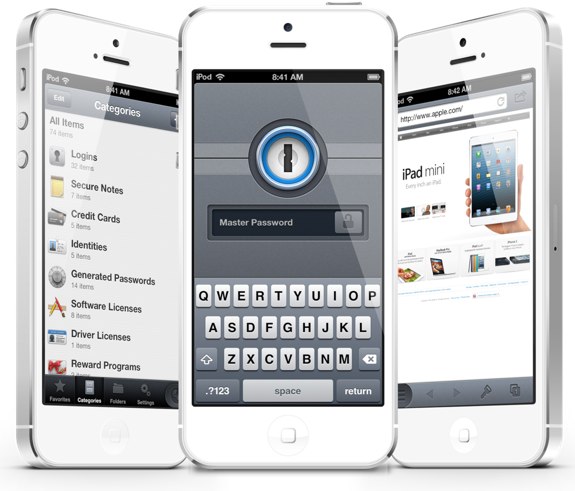 Now, on to the issue of Touch ID. While I can't say it with 100% authority without seeing your iPhone 5s, I'm willing to be that your device isn't defective at all. Setting up Touch ID to be optimal means using different angles when registering your fingerprint the first time. That way, no matter how you put your thumb to the fingerprint sensor, it can register you. One thing that many people don't know about, though, is that you can train Touch ID even more than you do in the initial setup, making it almost foolproof.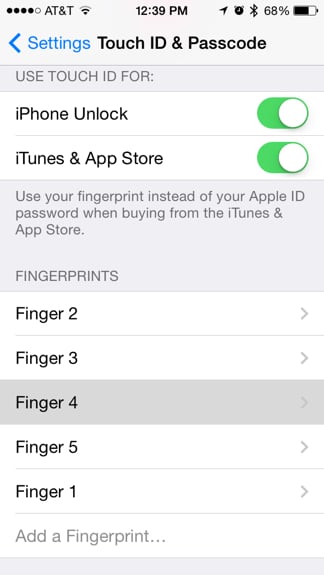 On your iPhone 5s, go into Settings > Touch ID & Passcode. Scroll down just a bit to the list of fingerprints that you've registered (you are able to register up to five different fingerprints.) Now, take the finger (or fingers) that you registered, and apply it to the Home button without pressing it (as if you were using Touch ID to unlock your phone.) You will see the entry for that fingerprint turn gray until you remove your finger (as seen in the image above.)
You just made Touch ID a little more accurate. Do it again, and you've trained it a little more again. Do it ten times. You get the idea. In order to help Touch ID learn your fingerprint from all angles, just apply your finger, lift it, and apply it again a few more times. You'll find that it works much, much better after doing this. Give that a try, and see if you still feel like you have a defective device!
Keep those questions coming–if you need help with a tech issue, let me know at askandru@gmail.com!