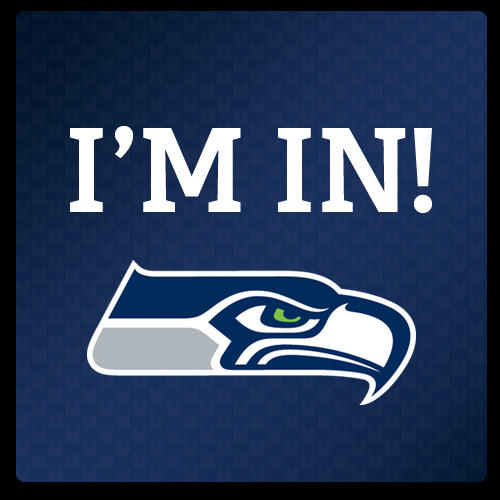 Seattle hearts hurt Sunday.
It happened around 1 p.m. In about 31 seconds. Maybe you remember.
The Seahawks had just made a stellar comeback, leading the Falcons in the divisional playoff game, 28-27. I was in my friend's living room, dying. You were at a bar. At home. Wherever. If you were watching TV, you were watching the Hawks. Eighty-seven percent of Seattle televisions that were turned on were tuned to the game, according to our local Fox station. That's the most since 2006, when the Seahawks went to the Superbowl.
Look or look away — it was happening. The kind of against-all-odds comeback that makes you know you love life. Marshawn Lynch had scored on a 2-yard run, giving the Seahawks their first lead of the game after starting the fourth quarter down 27-7. Around a table crammed with Cheetos, Landsharks and an untouched platter of veggies and dip, one friend chicken-danced. "It's only weird if it doesn't work," Bud Light told us. Hell yes.
Then, reality. Atlanta's offense took the field. Russell Wilson left it. Oh my God. They only need to get in field goal range. Twenty-five seconds on the clock. It's like we'd forgotten: This is football. Twenty-five seconds is an eternity.
By the time that Falcons' field goal put them over the top, I was back in a world where dreams don't come true. And so was everyone else.
"So wrong. So sad," I tweeted Monday, linking to a story GeekWire's Taylor Soper wrote about statistical genius Nate Silver's prediction that the Hawks would win.
"Too soon Monica," replied basketball coach Nate Tepp. "Why? Why would you remind us?" tweeted UFC fan Rob Stevens.
Yeah, it's no fun to remember. But we rode those waves together. No way I'm going to recover apart.
Like many of you, I'm sure, I had my friends on game day. My junk food. Even my 5-month-old — who sported a Seahawks onesie and, I swear, stopped fussing when we got on the board with that touchdown in the third quarter.
But I had my phone, and the people behind it. I had to reach out. It's this fever, when you know the the eyes and minds of so many people are focused on one thing, one big hope. I'm not usually a football fan. Or even a sports fan. But there's nothing like sports to make you feel this connected. The fever rules me, even me, when it comes. Come on, Seahawks. Come on. COME ON! Thirty-one seconds, millions of beating hearts. I picked up my phone. "OMG OMG OMG" #SEAHAWKS" I tweeted.
It was killing us …
Heart in throat. #Seahawks

— Bob Crimmins (@bcrimmins) January 13, 2013
Scoring review. Heart attack. Please, please, please! #Seahawks

— Tami (@tamiro18) January 13, 2013
Oh, my heart. I can't take much more of this. #seahawks

— Tom Vasquez (@TVasquez) January 13, 2013
… and then it did.
That hurt. That is all. #Seahawks

— Rebecca Perry (@Rebecca_Perry) January 13, 2013
It was, really, truly, heartbreak. A mental funk. A "massive case of the Seahawks blues." I wonder — how much more productive would Seattle have been if things had gone differently? Run errands? Clean the house? All I could do for a while there was exist.
They were so close!
Emotional abuse. That's how my husband describes the whole Game of Thrones series, which just looooves to make you fall in love with a character and then watch him die a cruel cruel death. You plod on, unwilling or unable to pull away.
Eleven guys on a field, the collective mood of a city in their huge, huge hands. The 12th Man. Even bigger. Hurting. Screaming.
You know how even I know, not being a dedicated sports fan, that the 12th Man really does rock, and it's not just a feel-good thing about the decibels at CenturyLink Field? Because Seattle was spent, at the end of that game. But we weren't pissed. We gave them our hearts, saw them broken, and will give them our hearts again.
Soon as they're better.
I'm physically and emotionally exhausted. It'll take me months to get over this game. I love you #12thman #Seahawks.

— William Bill Baker (@wwbaker3) January 13, 2013
Seattle's Eric Berto went on Orbitz Sunday. Started buying tickets to San Francisco for the Seahawks' game against the 49ers. Got to the confirmation page. Stopped. "Please make it real," he tweeted. They didn't. But it doesn't matter.
It's only emotional abuse if there isn't next season.
I'm still in. #Seahawks

— Eric (@geekgiant) January 13, 2013