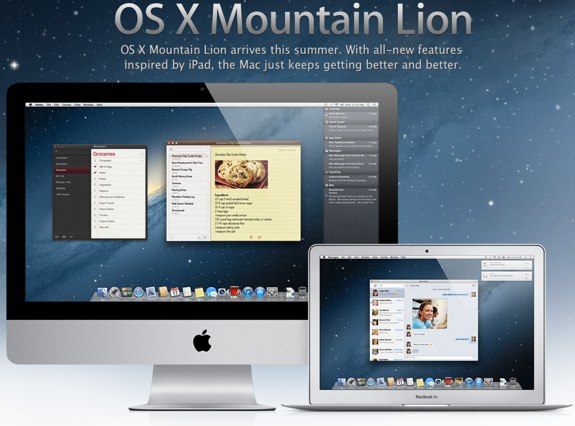 Apple is set to release its next major operating system update, known os OS X Mountain Lion, later this month. In this edition of Ask Andru, Tracy writes in and asks if there is anything she should do to prepare her Mac computers for the Mountain Lion installation. I share some tips on what we can all do to ensure a smooth upgrade experience to Mac OS 10.8.
Question: I hear that Apple will be releasing a new version of OS X shortly. Is there anything I need to do in order to prepare for it to ensure that I can run it? Will it be expensive?
You're correct! Apple announced OS X 10.8 Mountain Lion just five months ago, and it will be available in under two weeks. Mountain Lion will sell exclusively on the Mac App Store for $19.99 (so, not expensive at all!) and will include some nice features, including AirPlay Mirroring from your Mac, tighter iCloud integration, Twitter and Facebook built-in at the system level, Reminders, Notes, Game Center, a new Messages app that will let you send and receive iMessages from the Mac, iPhone, iPod touch, and iPad. In total, there are over 200 new features that Apple is introducing in Mountain Lion.
I've been using the Developer Previews since February, and I personally think it's shaping up to be a great update —especially at the $19.99 price point. There are definitely a few things you should do to prepare for the arrival of Mountain Lion later this month:
MORE FROM GEAR LIVE
Check and make sure your Mac is compatable with Mountain Lion. Most Macs sold over the past few years are ready to receive the update, but there are some exclusions. You'll want to make sure that your Mac is on the list. I've compiled a list of Macs compatible with Mountain Lion for easy reference.
Once you've confirmed that your Mac is on the list for Mountain Lion, you'll want to ensure that you are running either Snow Leopard or Lion. Since Mountain Lion will be sold exclusively on the Mac App Store, and since only Snow Leopard (OS X 10.6) and Lion (OS X 10.7) support the Mac App Store, you'll have to be running one of those two Apple operating systems. One thing to note — if you're running Snow Leopard, make sure to run Software Update so that you are on the latest version, 10.6.8.
Back up your data. Using Time Machine is easy. Just get an external hard drive, plug it in, and back up to that. If you have an Apple Time Capsule or already have your Mac performing backups already, then you should be all set.
Download OS X Mountain Lion from the Mac App Store once it is available. All you need to do is click on the Mac App Store icon to buy and download OS X Mountain Lion. Once the download completes, the installer will launch and the installation process will begin. It will take about 30 minutes to complete, and then you'll boot right in to the new operating system.
That's it! Once installed, you'll go through a short setup phase to integrate your iCloud settings into Mountain Lion, bringing your data right into your Mac and setting up automatic two-way syncing between all your devices.